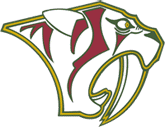 Congrats to
Rachel Robinson - 1st Team SVC
Stephanie Sabol & Jenny Yanik - 2nd Team SVC
Jessie Thinnes - Honorable Mention SVC
---
Congrats Stephanie Sabol on a great run to
States for the 3pt contest!
---
To see the AP State Rankings
CLICK HERE and go the link on the right of the page to get up to date
"AP Girls Poll"
---
Congrats Ladies on our first
SVC Conference & Tournament Championships!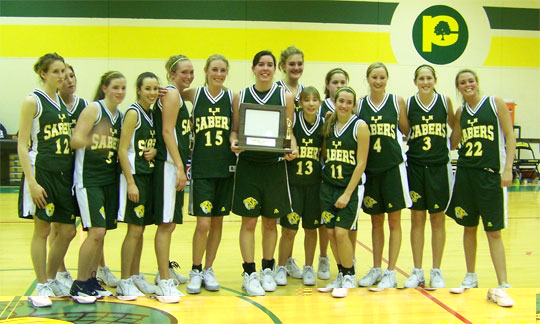 ---
Pepsi-Storm Classic 2nd Place
Sabers' took their first loss to Salt Fork (14-0)
the 14 game win streak is a new school record
---
Congrats Ladies on bringing home the
Unity Invitational Championship!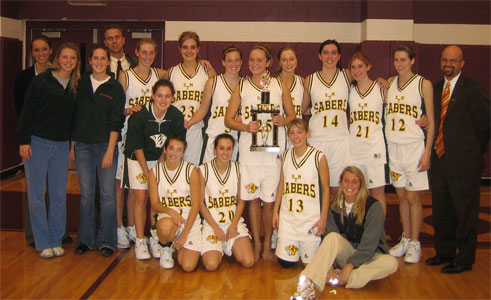 Remember there is still MORE
mountain to climb!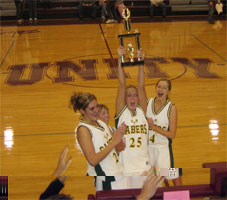 ---
Congrats to the Junior Varsity for winning
the Centennial Tournament!
Great Job Ladies!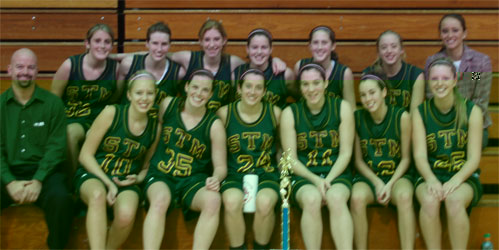 ---

2005-2006 Results

| | | | |
| --- | --- | --- | --- |
| 11/14/05 | Unity Invite - v. Tuscola | Away | W 49-45 |
| 11/17/05 | Unity Invite - v. Monticello | Away | W 50-24 |
| 11/18/05 | Unity Invite - v. Sullivan | Away | W 51-30 |
| 11/21/05 | Unity Invite - v. Unity | Away | W 37-35 |
| 11/28/05 | Calvary Baptist | Away | W 76-28 |
| 12/1/05 | GCMS | Away | W 50-31 |
| 12/5/05 | LeRoy | Home | W 40-35 |
| 12/8/05 | Fisher | Away | Cancelled |
| 12/12/05 | Tri-Valley | Home | W 43-29 |
| 12/14/05 | Blue Ridge | Home | W 72-20 |
| 12/19/05 | Shiloh | Away | W 42-15 |
| 12/27/05 | Pepsi Storm - Christman | Away | W 64-14 |
| 12/27/05 | Pepsi Storm - Tri-County | Away | W 58-18 |
| 12/28/05 | Pepsi Storm - Villa Grove | Away | W 57-17 |
| 12/28/05 | Pepsi Strm -Bismark Henning | Away | W 40-18 |
| 12/29/05 | Pepsi Storm - Salt Fork | Away | L 31-44 |
| 1/2/06 | Judah Christian | Away | W 67-16 |
| 1/4/06 | Uni High | Home | W 59-30 |
| 1/5/06 | GCMS | Home | W 54-29 |
| 1/9/06 | SVC Tourn - Iroquois West | Away | W 40-37 |
| 1/12/06 | SVC Tourn - Milford | Away | W 52-47 |
| 1/14/06 | SVC Tourn - CPCI | Away | W 41-30 |
| 1/16/06 | Unity | Away | L 38-45 |
| 1/19/06 | Fisher | Away | L 38-40 |
| 1/23/06 | LeRoy | Away | W 70-65 OT |
| 1/26/06 | Fisher | Home | W 51-36 |
| 1/27/06 | PBL | Home | W 40-38 |
| 1/30/06 | Tri-Valley | Away | W |
| 2/2/06 | Blue-Ridge | Away | W |
| 2/7/06 | v. Armstrong (Regional Semi) | Home | W 82-46 |
| 2/9/06 | v. Unity (Regional Finals) | Home | L 23-37 |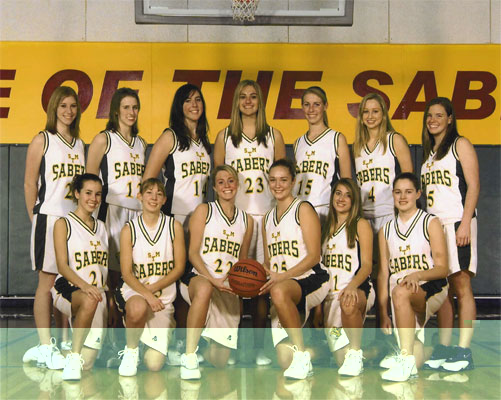 | | | | | |
| --- | --- | --- | --- | --- |
| Number | Name | Grade | Height | Position |
| 21 | Ally Bonadies | 10 | | G |
| 11 | | 9 | | G |
| 20 | | 10 | | G |
| 12 | Theresa Laumann | 10 | | F |
| 10 | | 9 | | G |
| 14 | Kaela McCabe | 10 | | F |
| 13 | Sara Mills | 12 | | G |
| 23 | Rachel Robinson | 12 | | F |
| 15 | | 11 | | G |
| 5 | | 10 | | F |
| 25 | Jessie Thinnes | 12 | | G/F |
| 22 | | 11 | | F |
| 4 | Jenny Yanik | 12 | | G |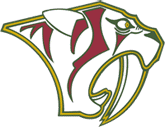 2005-2006 Season


Record: 26-4
Last Result:
L v. Unity 23-37
(State Regional Finals)