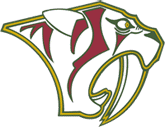 Congrats to
Kassie Jones & Stephanie Sabol - 1st Team SVC
Alisa Carroll - Honorable Mention SVC
---
Congrats Kassie Jones on a great run to
States for the 3pt contest!
---
Congrats 2006-07 STM Sabers
1st State Regional Championship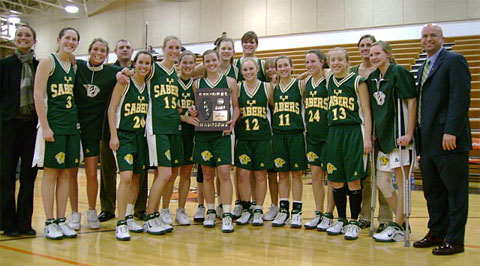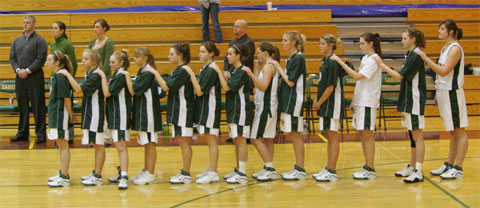 ---
Congrats to the Fresh/Soph - Finishing 2nd at the Bloomington Cent. Catholic Tournament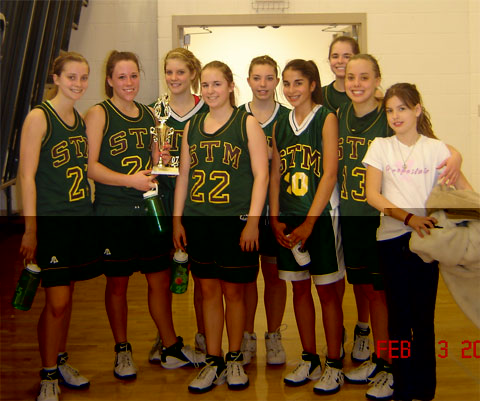 STM's Sectional Brackets (PDF) - Click Here

IHSA State Playoff Website - Click Here
---
Gym Rats Club Totals
Congrats to
Chelsea Green
4540 shots in Sept/Oct
STM Program shot over 20,000 shots this fall to prepare for this season. Let's make that hard work pay off.
---

2006-2007 Results

Date
Opponent
Location
Pts Leader
Rebound Leader
Result
11/13/06
@ Unity v. Tuscola
Away
Sabol (14)
Sabol (9)
W 52-43
11/16/06
@ Unity v. Sullivan
Away
Sullivan (18)
Jones (8)
W 53-44
11/17/06
@ Unity v. Monticello
Away
Jean (8)
Jones (15)
L 46-47
11/20/06
@ Unity v. Unity
Away
Sabol (7)
Sabol (6)
L 35-47
11/27/06
@ Momence
Away
Fitzgerald (8)
Fitzgerald (8)
L 42-52
12/2/06
@ Urbana HS (2A)
Away
Jones (14)
Sabol (15)
L 39-43
12/7/06
@ Tri-Point
Away
Sullivan (12)
Sabol (11)
W 46-29
12/14/06
Watseka
Home
Sullivan (9)
Jones (7)
L 38-50
12/16/06
@ Sacred Heart Griffin (2A)
Away
Sabol (28)
Sabol (13)
Jones (10)
W 72-56
12/18/06
@ Tri Valley
Away
Jones (16)
Jones (10)
W 43-34
12/27/06
@ Monticello vs. Tuscola
Away
Green (10)
Sabol (8)
W 46-36
12/28/06
@ Monticello vs. Neoga
Away
Sabol (12)
Jones (7)
L 43-52
12/28/06
@ Monticello vs. Ridgeview
Away
Sabol & Jones (14)
Hinders (13)
W 65-61
12/29/06
@ Monticello vs. Monticello
Away
Carroll & Sabol (12)
Hinders (11)
Sabol (10)
W 53-50
1/4/07
St. Joseph-Odgen
Home
Sabol (16)
Sabol (13)
Hinders (10)
L 50-54 OT
1/8/07
@ SVC Tourrn v. Momence
Away (PBL)
Sabol (15)
Sabol (5)
L 48-72
1/10/07
@ SVC Tourn v Tri Point
Away
Sabol (13)
Fitzgerald (12)
W 48-28
1/11/07
@ SVC Tourn v. PBL
Away
Sabol (20)
Sabol (11)
W 75-56
1/13/07
@ SVC Tourn v. Iroquois W
Away
Jones (13)
Hinders (12)
W 56-37
1/15/07
Unity
Home
Sabol (15)
Sabol (8)
W 45-40
1/18/07
@ Iroquois West
Away
Jones (21)
Sullivan (6)
W 59-40
1/19/07
Clifton Cent.
Home
Jones (14)
Hinders (7)
W 61-42
1/22/07
Le Roy
Home
Carroll (10)
Hinders (10)
W 55-15
1/23/07
St. Anthony
Home
Jones (21)
Jones & Sabol (8)
W 63-54
1/25/07
@ CPCI
Away
Jones (16)
Jones (8)
L 50-66
1/29/07
@ GCMS
Away
Sabol (19)
Sabol (12)
W 64-52
1/30/07
Prairie Central
Home
Jones (16)
Jones & Sabol (7)
W 63-60
2/1/07
PBL
Home
Jones (18)
Sabol (8)
W 52-48
2/6/07
RegionalSemi v. Georgetown
Home
Jones (15)
Sabol (11)
W 51-27
2/8/07
Regional Finals v. Westville
Away
Jones (18)
Sullivan (4)
W 55-51
2/13/07
Sectional Semifinal v. CPCI
Away
Sabol (10)
L 36-43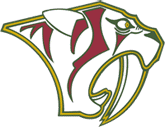 2006-2007 Season


Record: 21-10
Last Result:
L v. CPCI 36-43
(State Sectional
Semi-Finals)